Putting bubbles -back- in the Champagne! 
An interview with the brain and the soul behind OpusTime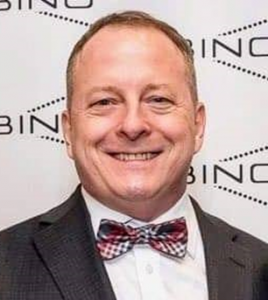 This past spring we managed to interview Dr. Poulin as he drove between his clinics in Québec, Canada. The conversation covered business, hobbies, education and, of course, technology. Make sure you pay attention because no stone was left unturned.
Who is François Poulin?
I´m a chiropractor and I´ve been practicing for over 25 years. I love having contact with people and I like to develop my skills. But there is something I share with all health care providers, and it is why the administration is embedded so much in the business. When I turned 40, I remember having a 9-month waiting list of patients, everybody wanted a piece of me. Hiring employees, accounting, sales, and marketing, doing so many things that made me exhausted. I promised myself I would never get caught in the same situation again. So I closed the clinic and moved 3 hours away, with a small clinic in my basement. If I was going back into practice again, it would have to be fun. Then I had this epiphany about an orchestra, I started incubating the idea first, then I turned it into a very detailed document during the course of 4 years. It turns out in the end, today, that I only show up to my practice and everything else is taken care of by the system. I´m completely free, I´ve eliminated all the overhead that haunted me before, which led me to reduce the space. So I have now a very minimalistic approach, with less staff, due to OpusTime.
What is your typical day like?
I get up, I make coffee, sometimes I even bake bread, which I started doing when patients asked me for tips on nutrition, because they were lactose intolerant, for example. Now I get into the car exactly at the moment that allows me to arrive at the same time as my first patient. So I now have time to develop OpusTime, see patients, have coffee and check my social media profiles. With my new clinic everything works better. At the end of the day, when I´m done and my last patient leaves the clinic, I slip my laptop into my backpack, turn off the lights and drive home.
How long have you been living in Montreal?
I was in a very small farm town with no more than 10,000 souls. Every chiropractor that came to visit was telling me the same story: that I would starve to death that no one would come to the clinic because there was nothing there. Well, 5 years later, I had a 9-month waiting list and patients were driving 1.5 hours to see me. But I left that and moved closer to Montreal.
Where did you attend college?
I did my doctoral degree in Davenport, Iowa.
Did you have a mentor during your college studies/early years in the profession?
Yes, I was a good friend of Dr. Roy Swed. I organized many seminars for him and I built his first website. I remember carrying around his enormous suitcase projector with cellophane slides that you could write on with a market. I remember my friends were starting to use laptops and video projectors. I was using Windows 3.1 back then, and I kept telling him it wasn´t necessary to walk around with such heavy equipment. A very intelligent man, but so resistant to new technology. Sometimes I had to pick him up and you kind of needed a small truck to move his equipment around. He always insisted on putting ads in the newspaper.
So when I opened my first clinic in this small town, I immediately built a website and all of a sudden I had patients flying in from Norway. Since it was one of the first websites for a chiropractor, I had thousands of patients find us over the Internet, contacting us and coming over from as far as Mexico and Europe. I made the front page of newspapers. All the web search engines of the day had us listed: Webcrawler, Altavista, Excite and Yahoo. The local newspaper covered us on the front page; the fact that patients were coming in from Norway.
You learn to sail. It´s similar to being a boat builder. You invest a lot of time in it, and once you finish, and next thing you know, you put it in the water and have no idea where to go with it. Now I basically only need to know how to paddle with a canoe or a small sailboat. What I love most is the one on one experience with my patients, something I can now do freely. I have literally no overhead. Like now I serve at 3 locations, but I don´t pay 3 full leases. In one location I simply rent for 2 days a week, a very small space, but enough to receive patients and give treatments, and I even make more profit.
What motivated you to become a chiropractor?
I come from a long line of healers that traces back to my great-great-grandfather. My grandfather was a legend, for example, he had a God-given gift (as well as my mother). He lived in Denim. My grandfather passed away when I was 20 years old and I didn´t know what to do with my life, and then I saw that over 4,000 people attended his funeral. I saw the sincerity of the people there, so I decided to write a note and left it in the inside pocket of my grandfather´s jacket. It read: "Grandpa, you deserve to rest because you have done so much work, but if you could just give me some advice, I´d appreciate it". During the funeral, I met a girl and started to date her. One day I left her at her apartment, which was right behind the Order of Chiropractors. So I saw the sign and decided to go in and asked: "What do I have to do to become a Chiropractor?" They gave me a thorough explanation, I fell in love with the profession, studied, and here I am! It´s important to have passion in the things you do, passion to help patients. My brain sometimes works like an autistic brain. Sometimes I dream of features and functionalities to help doctors and patients.
What are the hardest challenges related to this work?
I think the hardest thing is to be conscious of what we do, but also to be aware of what we don´t do or what we could do better. It´s hard to be a doctor. It´s hard for people to follow a path of taking care of themselves. People are more afraid of public speaking than of death. Some even have nightmares of standing in front of a crowd, and even tell their psychiatrists that they fear waking up naked at work. Moreover, 90% of diets are a failure. It´s hard to care so much for people and being rejected. It´s the same reason why so many gym memberships are not used. After so many years of trying, I know best not to invest in gym memberships because of that.
What are your biggest achievements?
Without a doubt, it has been to provide care to people, which comes from having learned to question everything, including my education. I was able to strip away everything that was ideological. Instead of being the all-knowing guy, the expert in the room, I started a process of self-consciousness and self-critique that led me to provide excellent care for my patients. Today I have around 700 referrals and people drive long distances to receive help from me, considering that I do CERO marketing. So the number one thing for me is the care and number two is OpusTime. It has allowed me to keep lobbying to improve care.
What were the biggest obstacles you had to overcome?
Yeah…Youth! When I finished university, I was so timid and stupid, OMG. Like my first software was not OpusTime, I had another, and I broke all my front teeth with it because I was not at all aware of the market needs…
Where would you see yourself if you weren't a chiropractor?
I did one year of administration and took one year of biology. What makes my life meaningful is to help others, so I guess if I couldn't practice any longer, I would look for a way to help people.
There´s usually a story behind each name and Opus evokes classical music. Are you a fan?
No. Not really. When I was working on the concept I met with a marketing specialist, and I kept trying to explain it, and then suddenly I said it was like being the director of an orchestra, where we are harmonizing all these different instruments. So that we can blend them into a good experience. Usually what we have in businesses is more like a Cacophony, you know? As a practitioner, I have to listen to the patients. If a patient tells me "but I´m still hurting", I can´t ignore that. This is why I use the analogy of an orchestra, musicians need to practice. The conductor is not contributing to the show but makes sure the musicians give their best.
Do you believe technology can bring doctors closer to patients?
It seems a reasonable bet, but I live that every day. My patients and I have a relationship because we have removed the administrative overhead that causes noise. Everything in between is solved by OpusTime. For example, I rarely get any phone calls. I don´t need a headset. I simply meet in person with my patients.
Is there anything uniquely Canadian about OpusTime?
I often think I´m the alien in the room (laughs), and I don´t mean that in a bad way. Often software platforms start out as depositories of the knowledge that exists in a particular field or region, but I think the other way around. Take for instance my practice. I don´t charge the average fee that chiropractors in the area charge; I charge $20 more per visit. Because patients that are shopping around for a deal get filtered, they are not coming to see me, those probably don´t fit the profile that I´m targeting. When making decisions around OpusTime, I always think twice. I wouldn´t want to be stuck with every decision that I make. I designed it from the ground up as a multilingual system, starting with French, Spanish and English. My previous software failed miserably because it reflected the way I worked in those days. OpusTime has a different logic behind it because professionals in any field can use it to manage their businesses: hair salons, tattoo parlors, clinics, consultants, really anyone who builds an appointment.
Can you name bad habits that prevent SMBs to better serve their customers?
Let´s take for instance a massage therapist who has a group of clients and gives A+ service but she doesn´t follow up on customers. I would tell her that health care providers deserve the highest pay, because it´s not a Spa, not luxury, a good massage can change a person´s life, there is nothing better for your health than a massage, especially if as a therapist you are breaking your own shoulders and wrists providing the treatment. To her, I´d say: don´t give away your work! Don´t bargain for your fees. She is probably the person that puts the bubbles back in the Champagne! Try to change how massage is perceived. The same applies to hairdressers. They are not cutting hair, they are helping people present themselves in a better way. If you let the world determine the value of your work, then you won´t be able to give the best service to your patients.
How does the future of clinical practice look like, from your perspective?
I think that research is coming out of the data, so an ideal future would involve an increasing and better use of data to improve the way we interact with patients to provide treatments. That and also reducing restrictions imposed by legislation. Professionals are trapped between a rock and a hard place regarding the demands of the market and the restrictive legislation, which is always outdated. We will have access to incredible knowledge to better serve our patients.
What would you advise entrepreneurs to achieve balanced mental and physical health?
There is magic in OpusTime. I mean it. When you are not at work, the platform allows you to organize your business, and always be on top, so you achieve a balance between work and private life. It gives structure to everything around you, as a professional, so you can focus on servicing your customers.
What are your professional interests or hobbies?
Besides baking bread, I like to cook and entertain groups of friends. But it has to be healthy. I like to read about lifestyle, and how health relates to lifestyle. I like nature, traveling, hiking or camping.
Who is your favorite author (fiction and nonfiction)?
I like science fiction, thinking about the future. For example, The Matrix was amazing, in my opinion. I also love Jordan Peterson´s book. It was so powerful. I read a lot of SW and HW reviews on a daily basis.
Where do you go when you want to get away from it all?
I prefer nature than traveling to cities. But I like to go into nature with my mobile phone on a full charge!!! So I sometimes watch fishing videos, while I´m fishing.
If you could give advice to a younger version of yourself, what would that be?
Be careful what you wish for.
Before we wrap up this interview, where do you see yourself in the next five years?
In the next five years, I´m probably going to be merging my clinics into one and working full time to get OpusTime to every corner of the Earth.
———————————————————-
Did you like this interview? Share your opinion with us (info@opustime.com). Manage your business from anywhere and free up time for what really matters with OpusTime. Sign up for a 30-day free trial and experience symphony at work!